About Michael Casey's writing
"…beautiful work…"
"…lovely clear prose-style, great characters and beautifully crafted vignettes…"

"…I was thoroughly captivated by the fine quality of the prose and the strong deeply-felt characterizations…"

 
"…elegant, shrewdly observed and with a lovely wry humour…"
"…a very interesting piece of work – an unusual idea, very well executed…"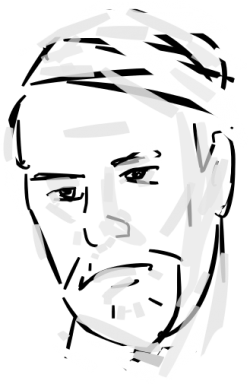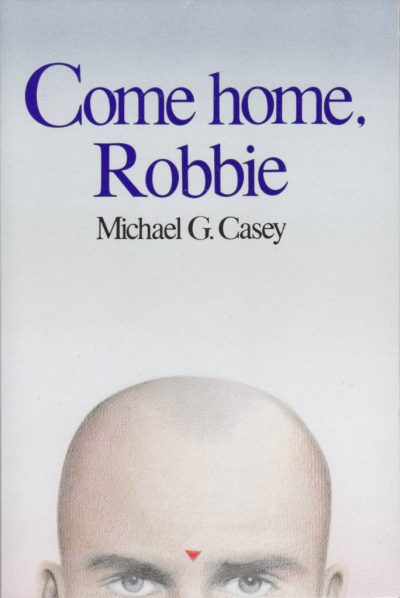 Come Home, Robbie
This is a novel about a crime worse than murder, and one where the main character never appears.
Parents are terrified when their son vanishes into another world. Challenged by trying to understand a very different mind-set, they draw on every resource that they have. Action-driven father and brooding mother fear that their son is being trained for a religious war.
____
"…part thriller, with all the page-turning urgency of that genre, part astute psychological study of a crumbling marriage and a brain-washed teenager … The background of impending divorce notches up the tension even further so that we are dealing with people permanently on the edge … the sheer quality of the writing lends the story some of the stature of heroic tragedy … The denouement is unexpected and yet leaves the reader with some of the empty feeling of real tragedy … I guarantee that you will find the novel difficult to put down…
"…The writing carries a spine-tingling compulsion…"
Education Times, 1998
The O'Brien Press, 1990

ISBN-10: 0-86278-214-7
ISBN-13: 978-0862782146
About Michael Casey's short stories
These stories deal with ordinary people, for example a farmer who falls in love with a sophisticated woman, a butcher who shoots a scavenging dog, a letter of complaint to Meryl Streep. But on occasion the characters are not so ordinary. One story deals with a Siamese twin who fears that his brother may commit suicide, another with a woman chef who kills a food critic, another the relationship between a security man and his building, another an aristocrat who trepans himself to relieve depression.
Excerpt
"The crawling figure has reached the steps and lies face down like a crouching dog, limbs bent awkwardly under him. He seems to be etched in black because the snow has melted in a narrow strip around him. If there is body heat he may still be alive.
    'Is there nothing we can….?'
    'No.' She cuts across him and shuffles a pack of cards. 'Want a hand?'"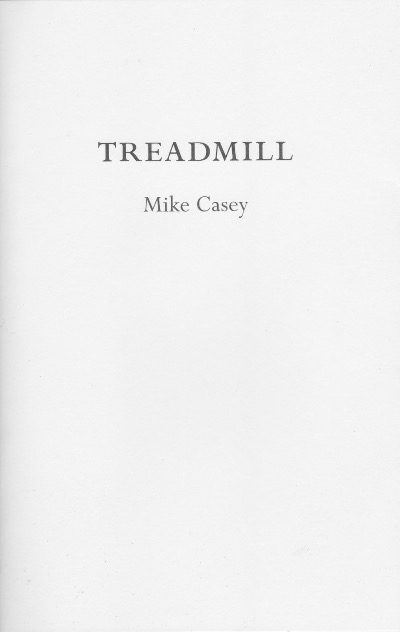 Treadmill
"…Michael Casey has succeeded in bringing to life some vivid characters who, by turn, captivate, amuse and engage. This is an original and exciting author whose work shows a wry observation and quick wit…"
Mike McCormack, 2006
Winner of the Start Chapbook Prize for short stories, 2006
ISBN-13: 978 0 0555598 0 8
Abridged Bibliography
Published in The London Magazine, Bridport Anthology, Columbia Magazine of Prose and Poetry, The Tribune, etc.
'Securex', The Bridport Anthology, Samson and Company, 2000; and in Signals-3, London Magazine Stories selected by Alan Ross and Jane Rye, 2001
'Mssrs Trimble And Cluestar', Columbia Magazine of Poetry and Prose, The Lost Issues, 1993
'The Sign of the Dog', Columbia Magazine of Poetry and Prose, The Lost Issues, Number 9, 1984
'The Wrong Address', Adapted For Radio, Raidió Telefís Éireann, 2001
'Normality', The Tribune (Short-List For Hennessy Award), 1992
'The Mystery Of It All', The Tribune (Short-List For Hennessy Award), 1994
'Treadmill', Tipperary Arts Festival Winners Chapbook, First Prize, 2006
'Daniel and Brad and Wheeze Momma', Ibid.
'Boring for England', Shortlisted for Best Story, Listowel Writers Week, 2008
'Grey and Brown Unrelieved', Shortlisted for Molly Keane Creative Writing Award, 2008
'Letter to Meryl', Orbis, 2014
'Playing Through', Leapfrog Press, Spring 2015